The Indianola Community School District has been working on a hefty homework assignment, and this week marks the first deadline.
This district, like every other in the state, needed to submit a "Return-to-Learn" plan to the Iowa Department of Education by Wednesday, as required by the DE and Gov. Kim Reynolds.
It focuses on how classes will resume this fall amid COVID-19, which led to school closures this past spring. But, according to Superintendent Art Sathoff, Return-to-Learn is more of a "list of assurances" than a detailed plan.
So, locally, the homework goes on.
"We continue to plan for different Return-to-Learn scenarios and follow developments with the virus and guidance from the state and health department," Sathoff said.
On Monday, he released a video outlining some of the district's ideas. The full video can be found here.
One main feature, as required by Return-to-Learn, is the formation of not just one plan, but three.
After all, depending on what health guidelines call for, classes may resume onsite, which Sathoff described as "on a normal schedule with added precautions;" remotely, which would be a required version of this spring's voluntary online learning; or as a hybrid of the two.
Under the hybrid model, students may be onsite three or four days a week, Sathoff explained, and learning remotely the other days.
"That's a scenario that I know gets complicated for the school, with transportation and staffing, and especially for parents … if they need to have childcare one or two days a week, for example," he noted.
But then, the other scenarios have their own challenges. For instance, to ensure that all students would have equal access to remote learning, the district will issue a device to each of them. Until now, only youths in grades six through 12 had them.
"We already had a great commitment as a district to technology integration and digital learning, so this really probably speeded up our timetable a bit," said Sathoff. "But it's a fairly natural progression to what we were already working on."
The intent is to issue iPads to pre-kindergarten students and Chromebooks to those in kindergarten through fifth grade. The district will foot the bill: $52,920 for the former, and $367,370 for the latter.
For this purpose, the Indianola School Board has approved spending up to $660,000 in all from the general fund, in anticipation of extra costs like cases and management software.
NO 'SILVER BULLET'
But even the most familiar option, onsite learning, poses its share of challenges.
"Health and safety, of course, is on everyone's mind," Sathoff said in the video. "We're doing a lot of planning and conversing about what we could do to safely serve our students and staff."
The district plans to beef up sanitation, from custodians' use of hydrostatic sprayers, to new hand-sanitizer stations throughout the buildings.
A "couple hundred" touchless thermometers have been ordered to increase staff's ability to take temperatures. Plans are in the works to isolate students who become ill, and follow up on their recovery. Masks will be allowed, but not required.
"We think it would be extremely difficult to require that, particularly with younger students, and make available the number of masks that we would have to," Sathoff said. "But certainly we would respect people's desire if they did choose to wear a mask."
One of the buzz words of the summer — "social distancing" — will be part of ICSD's vernacular this fall.
"We will physical distance when appropriate and possible," Sathoff said after airing the video. "There could be situations where fewer grade levels would be at lunch or recess together. Some classroom activities could be curtailed, such as sitting shoulder to shoulder on the carpet in an elementary situation."
To work on its Return-to-Learn plan, the district formed several teams to cover the seven areas recommended by the DE: leadership, infrastructure, health and safety, academics, social-emotional-behavioral health, equity and data considerations.
The DE itself unrolled its "Reopening Guidance for Schools" on June 25, which can be found at its website.
The document drew criticism from those who believe it doesn't go far enough to ensure the health of students and teachers, including the Iowa State Education Association.
That group released its own, and very different, set of recommendations on its Facebook page.
According to Sathoff, he isn't aware of such a list from the Indianola Education Association, "although I'm sure we have had individual members give input."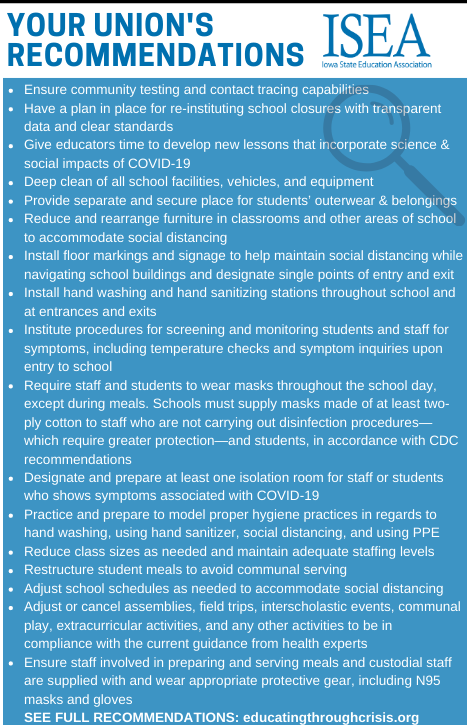 This past week, the district also sought feedback from parents and teachers via surveys about technology and family needs, and more surveys are possible.
Sathoff emphasized that the district, as well as the DE, are trying to plan for an ever-evolving situation in the pandemic. A lot could change before Irving Elementary, the district's year-round program, resumes classes on Aug. 4, or the rest of the buildings follow suit on Aug. 25.
"As far as the DE, I try not to second guess decision makers who are doing the best they can with the information they have," Sathoff said. "People should remember that, as schools and the DE are planning, that a lot can change with the virus in six to eight weeks, and guidance and plans can change, too."
In the meantime, district leaders will be digging deeper into planning, with more updates to come.
"There is not a one-size-fits-all solution or silver bullet," Sathoff said. "We have to try to serve all of our students, families and staff well, and that is a very big challenge. Most people have been pretty understanding and appreciative."