Have you stared at an empty store shelf this week? Worried about providing for your family during the COVID-19 pandemic? Then maybe you've had a taste of food insecurity.
Of course, for Warren County residents in need, those bare shelves may be in their own homes, even on the most ordinary day.
The Helping Hand of Warren County has had to adjust its sails to help them amidst this health crisis. But director Sue Wilson wants to get a message out, with the community's help: "We're still open, we're here, we can take donations."
The nonprofit at 109 E. Clinton typically provides free food, clothing, household wares and personal care items to anyone who needs them. Recipients don't need a referral or to meet any criteria.
Most of that still holds true. But national guidelines meant to slow the spread of COVID-19 — that no more than nine people gather together, keeping at least six feet apart — have changed the basics of distributing basic necessities.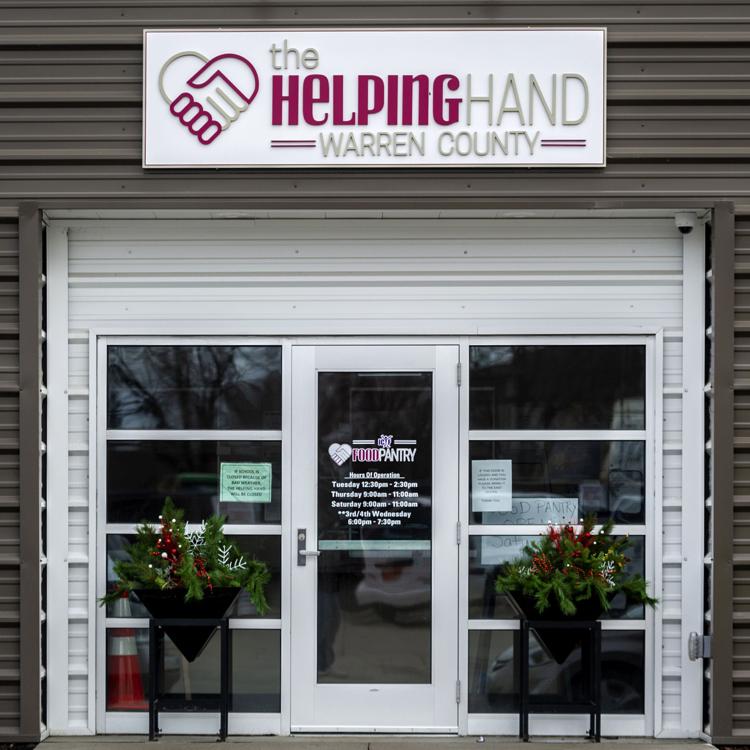 The most notable switch is the closure of building itself to the public. If someone has emergency clothing or household needs, arrangements can be made by calling 515-418-1909.
As for food distribution, it's now done as a curbside drive-through on Tuesdays from 12:30 to 2:30 p.m., Wednesdays from 6 to 7:30 p.m., and Thursdays and Saturdays from 9 to 11 a.m. Other time slots may be added as needed.
"A volunteer will greet the driver in their car," Wilson explained in a community newsletter this week. "A little paperwork is required if new to the pantry — mainly data collection."
Then the volunteer will head back inside Helping Hand to grab the groceries, loading them in the vehicle when he or she returns. Cooking instructions and recipe ideas are even included, and volunteers put thought into what might work best for the recipient.
"If they have kids in the household, let's make sure they have some easy, microwaveable food in case Mom is working from home," Wilson mentioned as an example.
It's a streamlined, sustainable process, she said — with some special attention given to traffic flow and the health of volunteers.
"We are working closely with law enforcement to decrease issues on the street as our clients come and go," she wrote in the newsletter. "Our volunteers are also being screened."
If someone doesn't feel comfortable volunteering during the pandemic, has a fever or feels ill in any way, they're asked to stay home. Those who are able to help must wear gloves at all times and abide by social-distancing protocol.
And they're doing much-needed work. Helping Hand already had seen an explosion of use this past year. For instance, in October of 2018, the nonprofit served 88 families. By October of 2019 that number soared to 163.
It's hard to predict what COVID-19 will do to turnout, Wilson said, but on a single day this week, the nonprofit welcomed several new clients.
"On Tuesday we were open, and we served 24 families — and six of them were new, have never been here before," said Wilson. "That is huge. We could go weeks at the pantry and not have new families."
She said the same pandemic-related worries that have many people stocking up — even hoarding — at grocery stores seem to be drawing recipients to Helping Hand.
Perhaps for them the stakes are even higher because they're heading into this crisis already stretched thin, whether financially or as to what food they have on hand.
"I think a lot of families are starting to panic. 'When am I going to get back to work? … What if we go to grocery stores shutting down?'" Wilson explained.
But the Helping Hand? Ready to keep reaching out when needed the most.
"We have the means to be able to stay open and help the community through all of this," Wilson said. "We have to be sustainable, so every new protocol we're putting in place has to be sustainable."