On March 31, Melissa Sones of Indianola launched a new Facebook group: Indianola's Positive Responses, Acts of Kindness and Every Day Heroes. The Facebook group was created so members could "share stories about all of the good happening in our city even during the toughest times." In a little over two weeks, the group has grown to over 750 members.
Coming soon I'll be devoting an entire column to sharing the story behind the growing Facebook Group. For now, I wanted to share some of the recent posts I've seen on the group's page in bold font below. I reached out to get more information on each one. After I cried many reassuring happiness tears putting it all together, here we go.
Posted April 14 by Indianola resident Cara Harwood
Saturday night (April 11) the crew from Pete's Pizza (on the Indianola square) made and donated 6 pizzas to the police and fire department.
"The owners of Pete's Pizza are Tim and Billie Bingaman and their daughter Sami runs the place with her husband Cory Amos," said Cara. "The Bingaman/Amos family is an amazing family that would truly do anything for anyone and they definitely don't ever expect anything in return."
Posted April 16 by Indianola resident Beth Middleton
Today was my daughter's 8th birthday. Her teacher emailed her class and about a dozen of her friends, including her teacher and an old school friend she misses, drove by and waved and honked and wished her a happy birthday. I was floored so many came by. I was crying.
"No one got out of their cars, but a few of them held a present, card or balloons out their window for her," said Beth. "A couple of others decorated their cars with balloons or signs. Mrs. Powers, her Emerson Elementary teacher, offered to email the families to make this birthday surprise happen and the fact that she and many others actually showed up…..it made our day," said Beth.
Posted April 16 by Indianola resident Lori White
On Wednesday we saw an elderly gentleman going into the (Indianola) HyVee. He was riding a scooter and we immediately noticed his face mask. It had been worn over and over. It was a surgical style mask and it was ripped at the strap so one side of his mouth was exposed.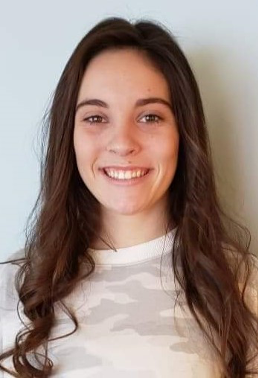 We left and went and got gas.
When I got back in the car my 15-year-old said "Take me back to HyVee." She had found some extra unused masks in my van that I had forgotten about. I let her go in, it was her idea. She easily found the gentleman and offered him the mask. She had to ask twice as he was hard of hearing. He gratefully accepted. My daughter's day was made.
"I couldn't get him out of mind as I sat in the car," said Lexi White, daughter of Donnie and Lori White of Indianola.
"Even though I'm not at high risk, I have all the things I need to protect me and this gentleman looked as if he would be at high risk. That didn't sit well with me. I also knew if I waited I might not be able to find him and I would miss my opportunity to make a difference."
"I was very proud of my daughter Lexi, but not surprised," said Lori. "Lexi has a kind heart and usually thinks of these kinds of gestures before I do. She usually rides with me when I do errands just to get out of the house but I no longer let her go into the stores with me. But now we always have extra supplies in our car and she is watching the parking lots for someone who might need it."
Elsewhere…
Changing it up a bit, my daytime job colleague Karolyn Baker of St. Charles even reached out to me to tell me about something she saw posted on a different local Facebook page. It's happening everywhere.
Posted April 10 by Martensdale resident Larissa Dickey on the Martensdale-St. Mary's- St. Charles Online Garage Sales Facebook page
We found 2 painted rocks around town on our walk. Thanks to whoever is doing that. My son and daughter loved finding them.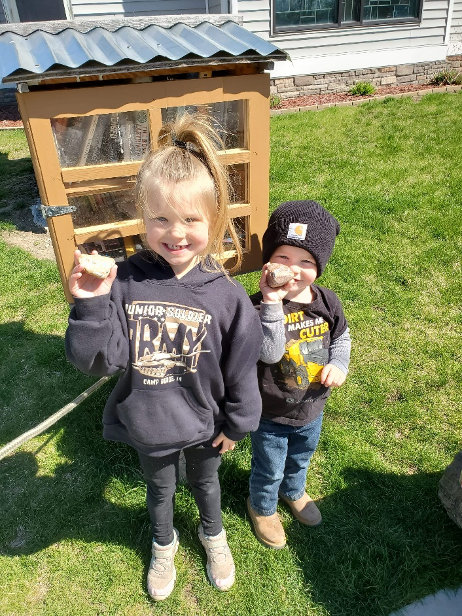 Dickey posted pictures of her daughter and son holding different rocks found in different locations and that's when the secret joy-giver posted to the page in response. See the sequence below.
Terah Henson- Yay!!! We've been checking to see if they were found. SO glad to see those smiles (in the pictures)!! Mission Complete!
Larissa Dickey- We found 6 of them and re-hid them for others. And we keep going by to check if someone else found them. That was so awesome of you!
Terah Henson- We found our first "kindness rocks" about a year ago in Winterset. It brought so much joy to my kids. We thought now was a perfect time to spread some joy around Martensdale.
"When we left Winterset that day after shopping on the square, we decided it was something we wanted to do someday and now just seemed like a good time," said Terah Henson of Martensdale.
"We recently ordered some paint pens and when they arrived, the kids couldn't wait to start," said Terah. "We sat and thought about words we could paint on the rocks and came up with words like Hope, Smile, Faith, Endure and Love. We painted the rocks with different designs. My 6 year-old daughter and 12 year-old son did their own and I made a couple. Then we walked around Martensdale together on a sunny day and hid around 16 rocks."
Terah is a Martensdale -St. Mary's kindergarten teacher and Larissa's daughter happens to be in her class. Terah was surprised to see the post on Facebook but felt immediate joy.
"It made me happy that a child had found it," said Henson. "But to see the picture was one of my students who was smiling was so wonderful, knowing that we couldn't interact with them right now. And Larissa told me they went home and made a couple of their own rocks and continued the tradition and hid a few of their own."
Terah said if families are looking for things they can do at home with the kids….simple acts of kindness are a great idea.
"Anything you can do to let others know that you care is an amazing thing, whether it's spur of the moment or planned," said Henson.
And regardless of whether you know who will benefit or not. Doesn't matter. Think about it.
That wraps it up for this column. I hope you found the stories as compelling as I did. And right now these stories are endless and I'm trying to keep up while doing my regular job. Why? We need to hear the good. We need hope.
It's nothing short of truly inspirational to see and hear all of the thoughtful things people are doing in Indianola and the surrounding communities. There's been so many different ways that love and kindness and gratitude have been shown. That reminds me of a story.
One Thanksgiving celebration back in the late 1970s, my grandfather was asked at the dinner table what he wanted for Christmas. He said "All I need is a little love and kindness." And what did he get that Christmas? He received a T-shirt and letters were ironed onto the front of the shirt which read: "A little love and kindness." He proudly put the shirt on and slowly flexed his muscles for the Super 8mm silent home movie my dad was filming. I remember it plain as day and smile now as I see the memory in my mind's eye.
Think about it. A little love and kindness. Isn't that really what all of us ever need?
I wonder if all these purposeful and random acts of love and kindness will fade away once our lives return to some sense of normalcy… when there's toilet paper available in stores, warmer weather, school activities, commutes to work and sports to watch on TV. Our lives will be so busy and full again, yes?
Well, seeing all the good things happening in our communities right now, life seems pretty full. And in focus. I hope this is just the beginning.
Think about it.
Our neighbors in Indianola and surrounding communities are doing wonderful things during this time of crisis in our world. Keep your eyes and ears and heart open and you might just find a dose of inspiration and hope. Especially right here. Right now.