In a time when many are worrying about getting their own families through this pandemic crisis, three small towns southwest of Indianola are stepping up in a big way to address food insecurity in their communities.
The Interstate 35 school district serves students from St. Charles, Truro, New Virginia and the surrounding area. The K-12 building is located in Truro.
According to New Virginia resident Beth Voltmer, the existing I-35 "Backpacks" program was started six years ago under the leadership of I-35 middle school teacher Sue Meggers.
Meggers took a group of students to the Iowa Hunger Summit in 2014 and afterwards they decided they needed to start a local donation program to provide food for their own students in need. With the school board's blessings, students began collecting food from the student body, local churches and community members or groups. Students packed food on a weekly basis and a school counselor distributed the food to families identified as food insecure. The program continues to operate.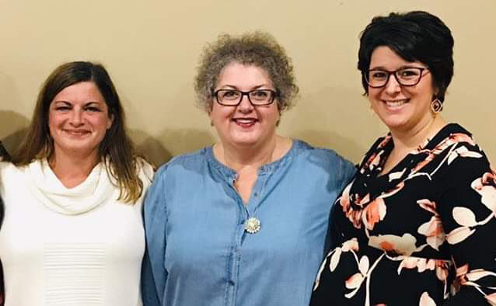 But a few weeks ago, the Covid-19 pandemic took hold in Iowa. All of a sudden schools were closed. Businesses started shutting down and people were out of work. Voltmer and Jacob Heddinger, I-35 school elementary counselor, discussed the school's Backpacks program needs. Now, more than ever, the need for food was critical.
"In times of crisis like this, you feel so helpless," said Voltmer. "I wondered what I could do to help. I knew there was a need to feed these families who were already food-insecure. With schools closed and no breakfast or lunch at school, there was an even greater need."
Beth suggested a food drive and asked her two daughters, who are I-35 graduates, if they would be interested in helping get the word out. And with that, the food drive took off.
"On March 18, we ran a Facebook event for two weeks to help keep vulnerable families fed during this crisis. We received food items along with approximately $1,300 in donations," said Voltmer.
Beth then worked with Kevin Miller at the Indianola Fareway store to order a two-week supply of food items.
Beth and husband, Steve, picked up all the food and delivered it to the I-35 Schools Food Pantry.
According to Voltmer, from there the school nurse and two school counselors boxed it all up and an I-35 school bus driver used a bus to deliver the goods directly to the families. The program puts together 50 "backpacks" a week, serving 25 families in the I-35 school district.
Voltmer and her daughters, Mackenzy Scrivner and Courtney Stanley, rested for only a few days. Then on April 2 they launched the "I-35 Food Pantry Drive Take II" event on Facebook.
"We surpassed our goal of $1,200 and we're up to almost $5,000 total now," said Voltmer.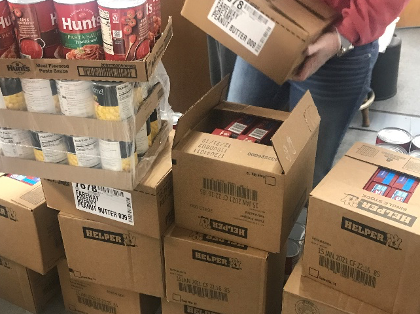 "Because of the concern for germs, we transitioned to only accept cash or check. We've had three $500 donations: an anonymous donation from a local family, one from the Truro Congregational Church and one from the St. Charles Masonic Lodge #315. Other than that it's a little bit here, a little bit there. It all adds up."
The donations came in amounts of all sizes and every cent is making a difference for students and families in need.
"Quite honestly, it's pretty emotional," said Voltmer. "To see people respond with an outpouring for the kids is amazing. I hope it's brought attention to the fact there are that many people who are food-insecure in the I-35 school district. It's amazing the power of what people can do when they come together. It's heartwarming. It's for the kids."
Voltmer also said she enjoyed working with her daughters on the effort and said that while formally setting up a third I-35 Food Drive Event hasn't been planned just yet, the need isn't going away. The community-driven Backpacks program continues throughout the summer months.
"More people than ever are food-insecure and there will definitely be a greater need for donations going forward," said Voltmer. "We're just one small community. Maybe our story will encourage people to continue looking in their own communities for ways to help those in need."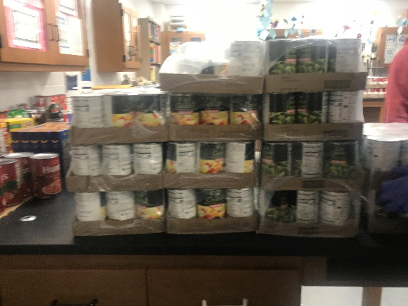 Our neighbors in Indianola and surrounding communities are doing wonderful things during this time of crisis in our world. Keep your eyes and ears and heart open and you might just find a dose of inspiration and hope. Especially in three small communities in rural Warren, Madison and Clarke counties who are coming together even more to make a difference for those in need.
If you'd like to contribute to the cause, you can do so in the following ways:
VENMO: @Eric-Scrivner-2
Mail checks or cash to:
• Mackenzy Scrivner (attn.: I-35 Food Pantry Drive) 2765 Woodland Ave. St. Charles, IA 50240
Drop off checks/cash at:
• Farmers & Merchants Bank- St. Charles
• Union State Bank-Truro
• City State Bank-New Virginia