For the first time in 50 years, Indianola will not be home to an organized hot air balloon event this summer.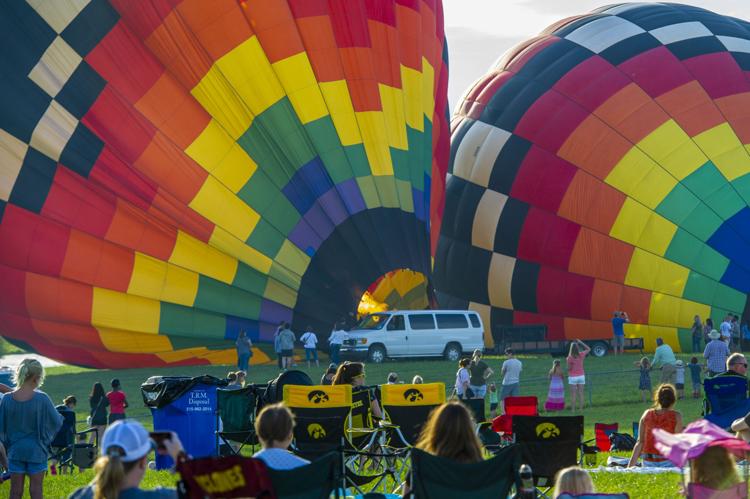 "It is with the heaviest of hearts that we announce the 2020 National Balloon Classic scheduled for July 24-August 1 has been postponed until July 30-July 7, 2021," said a statement released by the Classic on Thursday afternoon. "We know that long-standing traditions are needed now more than ever, but given the reality of COVID-19, our highest priority is the health and the safety of our guests, participants, staff, volunteers and community.
"Our determination, planning and momentum will not end," continued the statement. "We are more committed than ever to draw upon our strengths, support one another and come back strong in 2021."
But looking forward isn't all that is comforting to pilots and organizers who view the annual National Balloon Classic as an event akin to Christmas, said Bill Clemons, a long-time pilot and race director for the event since 2009.
Classic is grounded for 2020
It will be a different summer in Indianola this year, the first time in 50 years without an organized balloon event in the community.
"This feels like a death to balloonists," he said. "We're going to be able to fly next year, but Indianola is like a giant family reunion of balloonists who get together every year.
"To think that we're breaking the streak of 50-plus events is hard," he said. "But I don't believe Indianola will be the only event cancelled."
Battle Creek, Mich., also had cancelled its balloon event Thursday, he said, and others are up in the air on whether they will be held.
The decision was heartbreaking, said Staci Scheurenbrand, executive director of the Classic. "We just reached the point where we had to make some serious decisions."
Members of the Classic board were concerned about a lot of unknowns, said Jim Fromm, a member of the Classic board. Financial challenges could be impacting businesses who usually support the Classic with sponsorships, he said, and police and fire staffs that the Classic relies on heavily already are stretched thin.
Finally, he said, there was no guarantee that people would feel comfortable attending the event.
"There still would be unknown hurdles we would have to jump and knowing what they are or how high those hurdles would be, it would be hard to plan," he said.
The board held its April meeting last week and started talking about whether to move ahead, but decided to wait a little, said Fromm. When they met again Wednesday night, little had changed, he said.
"Things are loosening up a bit," said Fromm, "but not for large events by any means. To get from gatherings of 10 to 5,000 or 6,000 is probably going to take a while."
And while social distancing would be hard for those attending the event, it's almost as hard for those who fly in it.
Randy Stone of Indianola said he isn't even flying for leisure right now due to the challenges of social distancing.
"We're trying to follow the quarantine thing and we don't have enough of us here in the house to fly comfortably," he said. "Younger and stronger people manage to fly with fewer crew members. We're old and slow. Whereas somebody else can do it with two or three, we want five to seven."
It also would be hard to keep people away from the balloon once it lands, he added.
"You have kids come out and you put the balloon away and you talk to them about that," said Stone. "Now you obviously can't do that either."
A group of six or seven pilots were planning to fly Thursday night, making the short trip from the Indianola Middle School to the Classic field east of Indianola.
Fromm, who said he too is staying on the ground right now, said that will be tough.
"A night like tonight, when they'll be about half a dozen balloons up, it's tough to watch balloons flying when you're not."
Making it especially heartbreaking is the fact that this summer would have marked Indianola's 50th consecutive year of ballooning. Scheurenbrand said they still are looking for ways to celebrate the tradition.
"We're thinking of unique and creative ways that we can honor our sponsors and their support and our partners and still honor the fact that Indianola has celebrated 50 years of hot air balloons," she said. And if they can't lock that into place this year, that's okay she said.
"We plan to be together again next year," she said. "Fifty years isn't long enough — we'll celebrate 51."
And in the meantime, she added, Indianola will be luckier than places with no balloons at all.
"We have some amazing local pilots; they can social distance in the air," she said. "I won't be surprised if we see some balloons in the air. It won't be in mass numbers, but we will enjoy every one."
"Balloons will fly," agreed Clemons. "This is Indianola. Balloons will always fly in Indianola."