Not only did Jaxson Bowlin claim the banner for grand champion market beef, it was with a steer born and raised on his family's farm.
Bowlin, who lives near Prole and is a member of the Jackson Hilltoppers 4-H Club, also earned top honors for Warren County-produced steer at the Warren County Fair beef show on Saturday.
"Jaxson's mom, Jamie, and I are really proud of how well he performed this year," said his dad, Jeff. "It was pretty emotional — something we've been building for, the four or five years that we've been doing this."
But the family's work with cattle goes back much further. Jaxson's late grandfather, Tom Bowlin, and step-grandfather, Frank Wheeler, were "big impacts" on how Jaxson and Jeff go about their operation.
"The biggest thing is the family tradition," Jeff said. "It's something our family has been doing for generations. I think the Bowlins have been at the Warren County Fair for 50-plus years."
Warren County Fair Show: Beef show
As for this year, Jaxson hit the show ring with "Krocker," a Chianina steer so dubbed because his mother is "Betty." The Chianina breed is one of the oldest in the world, named for the region of Italy where it originated.
Chianina are known as the tallest and heaviest cattle breed. When Krocker was born on Feb. 27, he weighed 82 lbs., even then "big boned and heavy muscled," said Jeff. The day of the beef show, he tipped the scale at 1,440 lbs.
Jaxson, who will be a freshman this fall at Martensdale-St. Marys, has spent several hours a day caring for him. When baseball kept him busy, too, his 9-year-old brother, Dashall, pitched in with chores.
"It takes hours a day — six or seven hours a day, in and out of the barn all day long, even in the evening," Jeff said. "Washing, feeding — it takes a lot of work."
"I think I get responsibility out of it," said Jaxson. "It teaches me how to care for things and have some pride in things."
According to the judge, all of that effort showed. One of his comments that resonated with Jaxson and Jeff was, "You don't just show up on show day and make a steer look good."
But, according to the Bowlins, the same could be said for much of the competition.
"In my opinion, in today's lineup in the final drive, there were some really good steers out there, and it wasn't just one or two," Jeff said. "Every breed was represented really well. Even the market heifers were represented really well because the market heifer ended up being third place overall, which is quite a feat."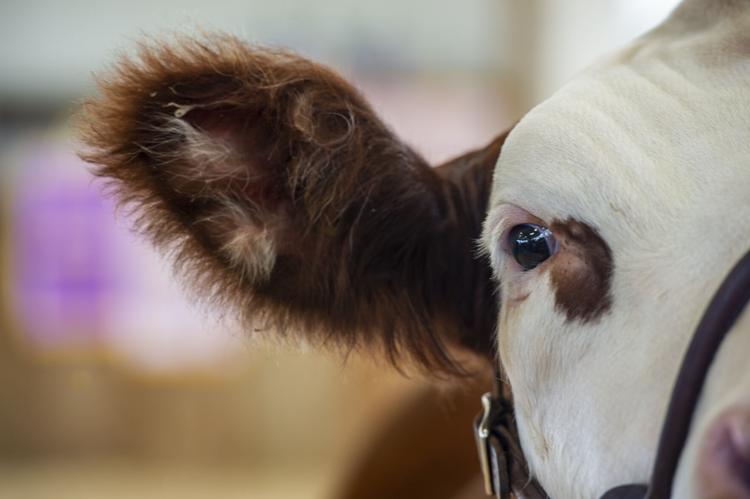 Jaxson said he likes contending for a banner against stiff competition.
"I like going up against better cattle. It gives me an experience to know what I need to do better to reach my goal," he explained.
And the experiences aren't over yet. Jaxson has been invited to show Krocker on Aug. 2 at the South Central Iowa Showdown in Chariton, a contest for grand champions. Then, in September, they'll head to the Aksarben Stock Show, a large regional show in Nebraska.
Jeff noted that it was extra special to be able to show at the Warren County Fair, though.
With COVID-19 still spreading, the fair board had postponed most events until 2021, but still hosted 4-H and FFA shows without a public audience.
"We're just really thankful we're able to show this year," Jeff said. "The 4-H kids have been hungry to do things. We've been working really hard. … Kudos to the fair board and everybody to get that done."
4-H/FFA MARKET BEEF SHOW RESULTS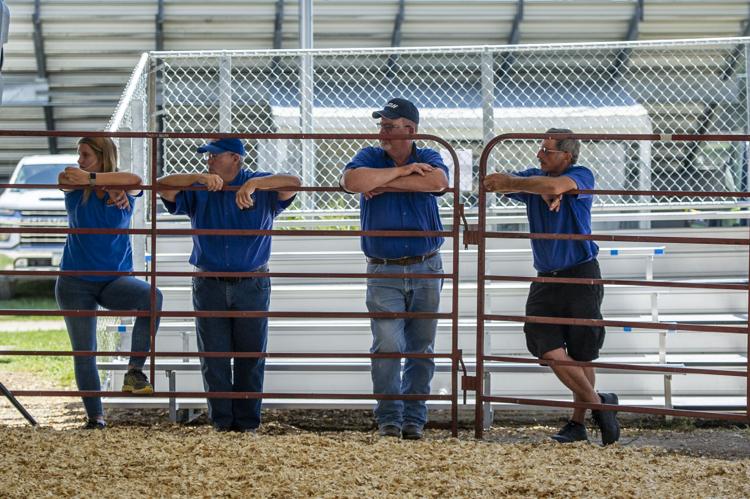 Champion Black Angus Market Steer — Suzi Fredricks
Reserve Champion Black Angus Market Steer — Gaige Boyens
Warren County Produced Champion Black Angus Market Steer — Suzi Fredricks
Champion Charolais — Leia Graham
Reserve Champion Charolais — Suzi Fredricks
Warren County Produced Champion Charolais — Leia Graham
Champion Chianina — Jaxson Bowlin
Warren County Produced Champion Chianina — Jaxson Bowlin
Champion Hereford — Selia Becker
Reserve Champion Hereford — Aiden Pals
Warren County Produced Champion Hereford — Selia Becker
Champion Limousin  — Anna Jordan
Reserve Champion Limousin — Anna Jordan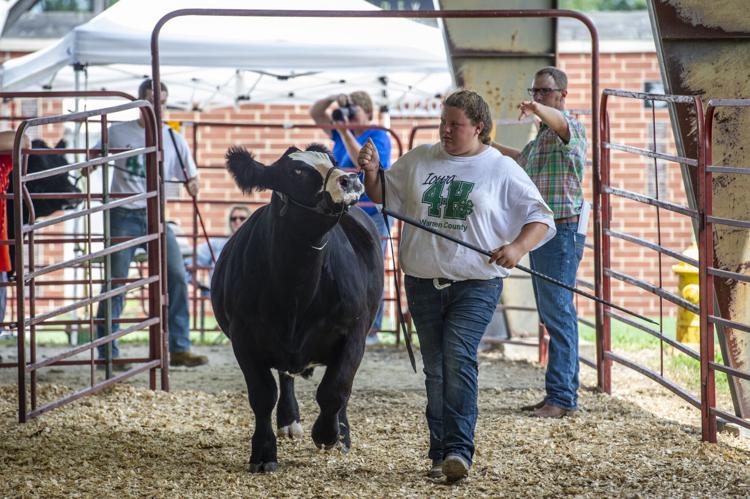 Warren County Produced Champion Limousin — Anna Jordan
Champion Maine-Anjou — Kamden Moffitt
Reserve Champion Maine-Anjou — Jack Johnson
Champion Mini Hereford — Sloan Henson
Warren County Champion Mini Hereford — Sloan Henson
Champion Shorthorn — Katelyn Moffitt
Reserve Champion Shorthorn — Benjamin Moffitt
Warren County Produced Champion Shorthorn — Katelyn Moffitt
Champion Shorthorn Plus — Benjamin Moffitt
Champion Simmental — Jasmine Jensen
Reserve Champion Simmental — Nate Thompson
Warren County Produced Champion Simmental — Jasmine Jensen
Champion Crossbred Market Steer — Olyvia Miller
Reserve Champion Crossbred Market Steer — Jasmine Jensen
Warren County Produced Champion Crossbred Market Steer — Olyvia Miller
Champion Market Heifer — Alena Oberbroeckling
Reserve Champion Market Heifer — Leia Graham
Grand Champion Market Beef — Jaxson Bowlin
Reserve Grand Champion Market Beef — Kamden Moffitt
3rd Overall Market Beef — Alena Oberbroeckling
4th Overall Market Beef — Jack Johnson
5th Overall Market Beef — Benjamin Moffitt
Champion Warren County Produced — Jaxson Bowlin
Junior Showmanship, 4th, 5th, 6th grades — Katelyn Moffitt
Reserve Junior Showman 4th, 5th, 6th grades — Alena Oberbroeckling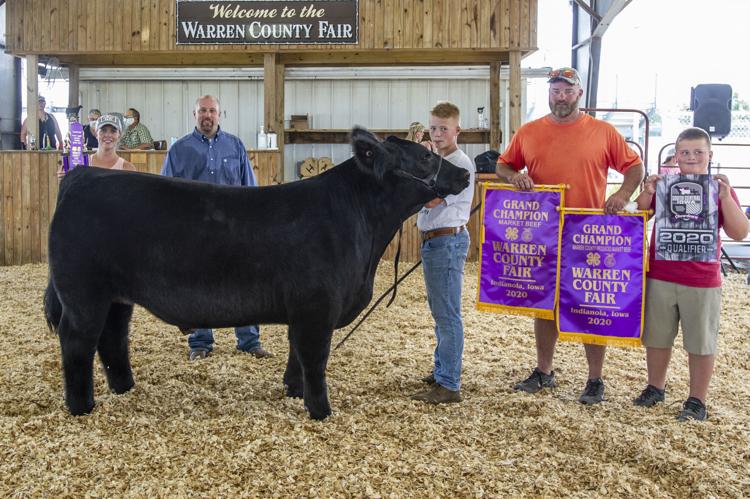 Intermediate Showmanship, 7th, 8th, 9th grades — Lucas Johnson
Reserve Intermediate Showmanship, 7th, 8th, 9th grades — Suzi Fredricks
Senior Showmanship, 10th, 11th, 12th grades — Jack Johnson
Reserve Senior Showmanship, 10th, 11th, 12th grades — Benjamin Moffitt
4-H/FFA BUCKET CALF SHOW
4-H/FFA Champion bucket calf — Asher Henson
4-H/FFA Reserve champion bucket calf — Sloan Henson
4-H/FFA DAIRY CATTLE SHOW
Champion Jersey Female — Brianna Fantz
Champion showman — Brianna Fantz
BREEDING BEEF
Champion Angus Heifer — Suzi Fredricks
Champion Chianina Heifer — Darrack Clingman
Reserve Champion Chianina Heifer — Preston Pettit
Champion Hereford Heifer — Crowin Cambron
Champion Polled Hereford Heifer — Selia Becker
Champion Polled Hereford Cow — Madison Olsasky
Champion Maintainer Heifer — Kamden Moffitt
Reserve Champion Maintainer Heifer — Cooper Oberbroekling
Champion Mini Hereford Heifer — Brady Streeter         
Reserve Champion Mini Hereford Heifer — Hanna Bedwell
Champion Red Angus Heifer — Chandler Lowry
Reserve Champion Red Angus Heifer — Slyvia Rainey
Champion Shorthorn Heifer — Benjamin Moffitt
Reserve Champion Shorthorn Heifer — Isabell Olsasky
Champion Shorthorn Plus Heifer — Nate Thompson
Champion Simmental Heifer — Darrack Clingman
Reserve Champion Simmental Heifer — Abigail Piekema
Champion Foundation Simmental Heifer — Abigail Piekema
Champion Commercial Heifer — Brook Piekeman
Reserve Champion Commercial Heifer — Isabell Olsasky
Champion Commercial Cow — Tyler Marshall
Reserve Champion Commercial Cow — Sampson Henson
Supreme Breeding Heifer — Selia Becker
Reserve Supreme Champion Breeding Heifer — Darrack Clingman
Third overall — Kamden Moffitt
Fourth Overall — Suzi Fredricks
Fifth Overall — Darrack Clingman
Warren County — Chandler Lowry
Showmanship, 4th, 5th, 6th grades — Champion Darrack Clingman; Reserve Dashall Bowlin
Showmanship, 7th, 8th, 9th grades — Champion Cooper Oberbroekling; Reserve Suzi Fredricks
Showmanship, 10th, 11th, 12th grades — Champion Ben Moffitt; Reserve Selia Becker