Sarah Robinson, who teaches at Simpson College, likes to remind herself that "when words fail, music speaks."
Musicians of a variety of abilities are using their music to speak loud and clear — to people they've never met and to loved ones confined to their homes by the COVID-19 pandemic
SIMPSON FACULTY PRESENT ONLINE RECITALS
Robinson is one of several Simpson music faculty presenting mini-recitals on the music department's Facebook page.
"I was seeing on the national news how various professional musicians were putting things out on the internet for people who are sheltering in place or social distancing," said Linda Benoit, who teaches violin and viola at the college. It hit her that Simpson musicians could do the same. So she invited faculty, students and members of the Vivo Chamber players to contribute their skills.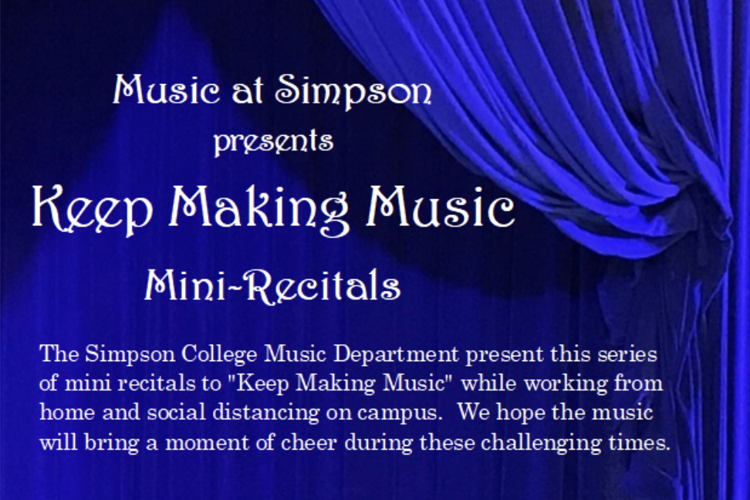 "It's a way for us to keep making music while still social isolating," she said. "We hope it cheers people up while still letting us play."
So far, Benoit's husband, John, has recorded two pieces — a rendition of "Don't Stop Now" by Fats Waller, played on his 1916 Troubadour player piano. The second is a recording of "Stars and Stripes Forever" played on a 1908 Edison Standard Phonograph.
Robinson, who teaches piano, played Chopin's Nocturne in E minor, Opus 72, No. 1.
It's a piece that is more than close to her heart. While in high school, the Osceola student studied piano with Karen Langstraat of Indianola.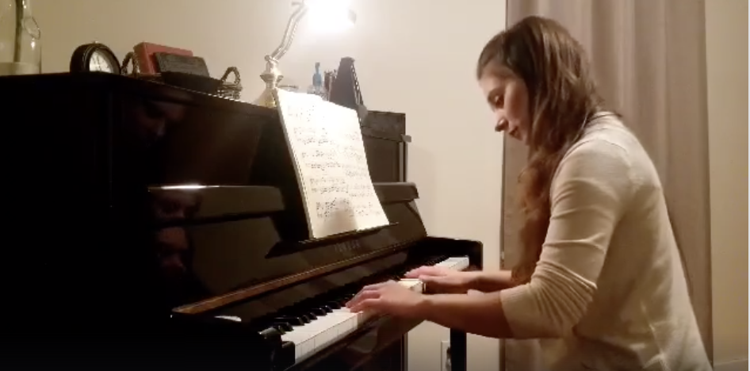 "Karen used to tell me just to play from my soul," said Robinson. The Chopin piece touches her there. So when Benoit mentioned the online recitals, it was top of her list.
After high school, Robinson studied music at Wartburg before getting a graduate degree in piano pedagogy — how to teach piano. Now she teaches at Simpson and has a studio of piano students that she inherited when Langstraat retired. While she's teaching piano lessons over Zoom during the period of physical distancing, putting her own work online wasn't a quick process.
"The nice thing is you can take the recording and pick your favorite one," she said. She used four or five takes to get just the right performance.
"One my phone ran out of memory right at the end," she said. "Sometimes I think the dynamics should be different here. Musicians, they get a little obsessive."
She was excited to be part of the program.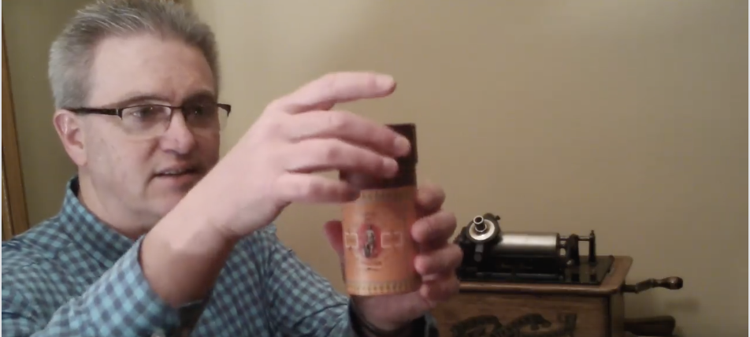 "Sometimes you don't have words, especially in times like these," she said. "I loved that Simpson wanted to do this, and I loved being a part of it."
Other faculty are preparing their pieces, said Benoit. "Everybody is practicing practicing practicing," she said. 
FAMIlY PLAYING FOR FAMILY
Right around 1 p.m., Reed Robbins, an Indianola sixth grader, usually goes to band. But with the Indianola schools closed, his mom, Heather Roush, wasn't sure what he would do with his saxophone.
So Wednesday, she was excited to find herself listening to Robbins and some of his friends playing music. On the sidewalk behind Vintage Hills in Indianola.
"He just loves playing his saxophone," she said. "He loves playing for anybody, any chance he gets."
At the same time, Roush's great-great uncle Wayne Bartlett has been struggling with poor health at Vintage Hills.
"We just were trying to think of something that would lift his spirits other than visiting out the window," she said. So Robbins and a few of his friends took their instruments and played for him instead.
Danyel Wilson, director at Vintage Hills, said many people are visiting with loved ones through windows, but Robbins and his friends were the first to bring music.
"We encourage it," she said. "Our residents can't leave their apartments. That means they're not coming down to the dining room and having lunch with all their friends. It's really hard."
Activity director Katie Salinas is tweaking traditional activities, like playing bingo from open apartment doorways, and visitors bringing music to residents' windows.
Robbins and three friends put together the mini concert, using songs they were supposed to play at their middle school concert Thursday night.
Fellow sixth graders Charlie Radosevich played his French horn and Garrett Yates played clarinet. Garrett's older brother, Chance, a freshman, played bass clarinet. "He's the glue that holds it all together," said Roush.
The students had to work together at a distance to figure out which songs they could do with the limited number of instruments. When it came time to go to Vintage Hills, each child had to have a parent drive them. And when they played, the stood several feet apart.
But making music together is making them happy, said Roush, and that makes her happy.
"Thankfully it's a creative outlet, because," she paused, and then whispered. "They don't really want to do schoolwork."
Bartlett enjoyed it as well. "He has usually been sleeping," said Roush. But on Wednesday, he was able to go right up to the window, and say thank you to the musicians
Wilson said people are welcome to come visit with loved ones or provide music through windows. She recommends calling ahead so residents can be positioned to take advantage of the offering.
Roush said she's hoping it won't be the last concert of the season for the boys, who have been out of school for almost two weeks now.
"It's been the only consistent so far," she said. "Playing music has been the only thing so far."