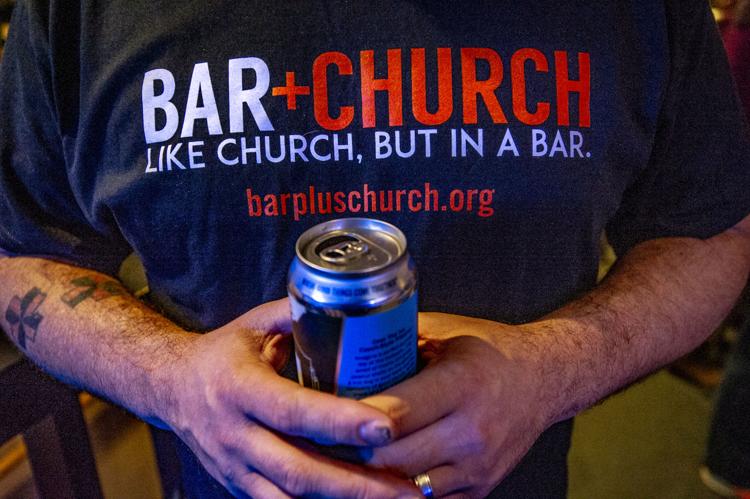 While churches meet in a lot of places these days, you don't expect one of them to be a bar.
But on the second Thursday of each month, members of Bar + Church gather at the Zoo in Indianola to serve the community and talk about God.
The Rev. Trevor Vaughn, the pastor at Farmer's Chapel United Methodist Church, brings together people of all backgrounds at the Zoo for service and fellowship. 
"So, our church is a Christian community and we have different expressions that are meeting, but it all goes around the same principle that church is about people, not a building," Vaughn said. "So, each expression of Bar + Church is different."
Vaughn worked with two good friends, Mike Caulkins and Drew Brazie, to begin Bar + Church in Indianola.
Vaughn was inspired when he learned that Heal House in Indianola was seeking supplies and food to take to the Warren County homeless.
Vaughn had attended the Rev. Jerry Herships' After Hours in Denver, Colo., where the congregation meets in a bar to make sandwiches for the homeless and worship together. 
So, Vaughn posted on Facebook that he was going to make sandwiches for the homeless at the Zoo and invited friends to join him for the first Bar + Church in January 2018.
"We had over 30-some people show up and they kept bringing sandwiches and peanut butter and jelly," he said.
He offered to buy drinks for those who came and brought materials for sandwiches.
"Well, I ended up buying a ton of beer that night for people and we made over 700 sandwiches on our first night," Vaughn said.
The goal of Bar + Church is to provide an alternative, welcoming space for people to talk about God and reach out to those who are not involved in the church.
"We were kind of trying to find a way to reach people who aren't involved with the church and we felt like maybe starting at a bar, or starting in that atmosphere, was probably a good place to start," Caulkins said. 
Seth Lampman, who attends Bar + Church, grew up going to church and tries to attend traditional services on Sunday mornings.
"I feel like it's a good thing to support and it kind of fits with me, and what I want to do. I enjoy spending time with people. I don't always make time for church on Sunday mornings and so, it's another time that I can get that part of my life," Lampman said.
He says he enjoys hearing the perspectives of others who attend Bar + Church.
 "When you get some of the folks who maybe have a conflict with or a bad experience at church, that come and then say 'hey, this is why I haven't gone to church' and open up about that, I found that to be really interesting," Lampman said.
Jesse Forbes, who owns the Zoo, says he enjoys hosting Bar + Church.
"It's been a fantastic experience," Forbes said. "And then, [Trevor] does the things, like the sandwiches for the homeless and stuff like that, which is stuff that I enjoy being able to house here."
Vaughn offers to buy the first round for people when they attend Bar + Church for the first time and Forbes helps cover the cost, paying half of the tab.  
"I told him, I'm like, 'you know, you shouldn't have to shoulder all that responsibility.' So, I'll help him with that," Forbes said. 
Anyone is welcome to attend Bar + Church.
"Whoever you are, you are welcome there," Vaughn said.
Before moving into discussion, Bar + Church makes about 100 peanut butter and jelly sandwiches for Joppa Outreach, an organization that gives supplies and food to the homeless in Des Moines.
"Those sandwiches go to feed the hungry," Vaughn said. "The idea is that people of all backgrounds come together to drink, learn, grow, laugh, experience life together."
The slogan of Bar + Church is "it's like church, but in a bar." Vaughn aims to reach out to people who may not feel comfortable going to a church.
"It's innovative. It's fluid. It's evolving," Vaughn said. "It is about Christian love, and fellowship in new and different ways, serving people in new places, no matter their location, or time or event. The idea is that we have people doing church differently."