When you're an artist, and your community is throwing a massive, New Orleans-themed RAGRBAI party, of course you want to decorate your home a little.
That's how the whole thing started for Bob Kling of Indianola—a single painting, maybe to adorn his front porch.
"I painted this first large mask here," he said, gesturing to a Mardi Gras-style creation spanning 43 by 48 inches. With arched brows, pursed lips and regal purple, green and gold colors, she's aptly named "Queen Nola."
"I thought, 'Oh, I'm going to do that," Kling continued, "and I'm either going to put that on the front of the house or somewhere because I'm having all these people here.' I thought that'd be great."
But now? The project has grown to 15 masks, each unique and soon available for "adoption." Even "Queen Nola" is headed to auction in a VIP tent when RAGBRAI will "Roll into Nola" on July 23.
The work of some Big Easy voodoo?
Hardly. More like the "Roll into Nola" decoration subcommittee, which Kling oversees as chairman of the overarching hospitality committee. And, of course, donated talent from Kling himself.
"Well, we had our weekly meeting here and the decoration committee saw it. 'We want two dozen of those!'" he recounted, referring to the first mask. "'I said, 'Ain't gonna happen.' The more I thought about it, I said, 'I tell you what, I'll paint 12.' Then I ended up doing 15."
The adoptable masks, each with a name and story and spanning 3 or 4 feet, will be posted on www.indianolaragbrai.com. For $250, one can be yours—once it does its job of making parts of Indianola look more like Bourbon Street. All of those proceeds go to benefit RAGBRAI.
The pieces will likely hang from light poles along Buxton Street, down to its intersection with Clinton, where many "Roll into Nola" activities will take place. Then Kling will have the masks ready for their new owners to pick up on July 25.
It's a big project, but then, Kling isn't a newcomer to those.
He was the art teacher at Indianola High School for 22 years and has been an adjunct professor of art at Simpson College the past 15. He was a newspaper columnist and serves on city council and as the emcee for Bike Down to I-town.
When Indianola last hosted an overnight RAGBRAI stop in 2009, the city commissioned Kling to create a commemorative painting, which was in turn made into prints for sale.
This process was unique, though. The initial mask, "Queen Nola," was inspired by a Venetian mask bought by Kling and wife, Susie, while traveling through Italy a few years ago.
For the rest, Kling called upon memories of visiting New Orleans for a convention of the National Art Education Association.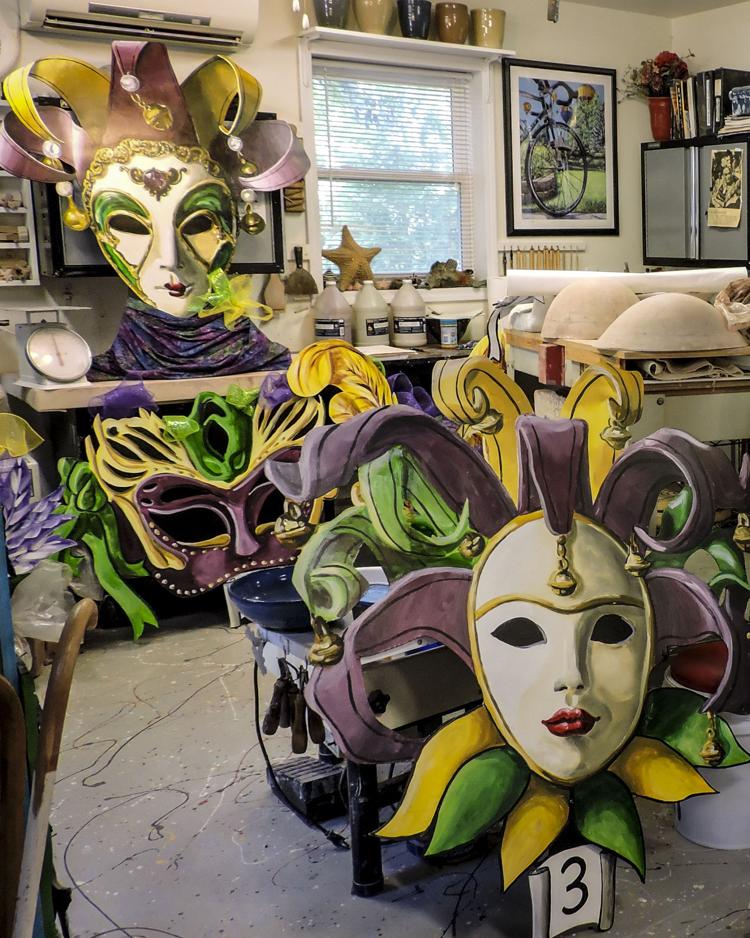 "I was down there right before Mardi Gras," he said. "They hosted a huge party for all these art educators in one of the big warehouses where all these masks and floats are stored."
Kling printed templates for his masks from his computer, taping the pieces together. He then traced them onto one-eighth inch Masonite hardboard and cut them out with a sabre saw, a handheld power tool.
Finally, it was time to wield a paintbrush. Kling used acrylic paint, which is waterproof, he said, although he doesn't recommend leaving the pieces outdoors for years.
It wasn't until Kling finished that he had the idea to give a name and background to each. But their wide range of colors and expressions made it a fun and very possible prospect.
There are the likes of smirking "King Zydeco," named for a genre of music born in Louisiana, or the showy "Daisy Fay Buchanan" after the character in "The Great Gatsby."
One of Kling's personal favorites, though, is the alluring "Confetti Betty":
"Nothing says 'party' like an eyeful of confetti!" he writes in her description. "Confetti Betty is a mysterious masked woman who parades along Bourbon Street wearing this beautiful mask and kisses people on the lips, throws confetti in their eyes and softly whispers, 'I'm from Indianola, Iowa. Don't you wish you were, too?'"
A dazzling message — whether hanging from a light pole during RAGBRAI or, afterward, in "Confetti Betty's" new home.